interviews
Original interviews of artists and photographers related to Formare la luce will be occasionally introduced.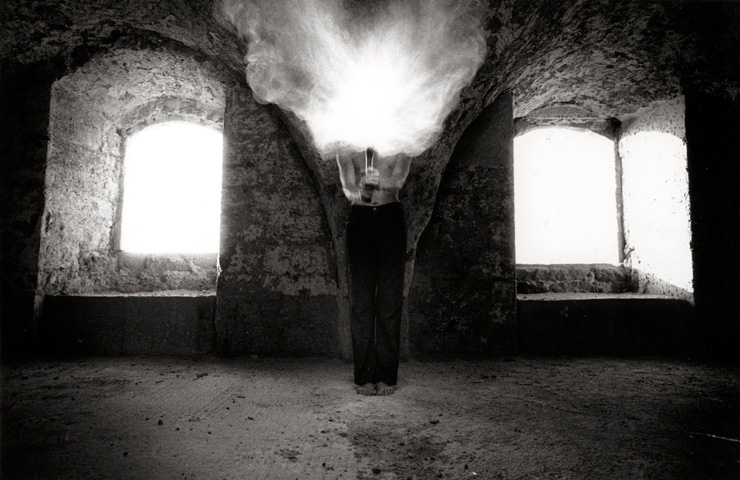 "echoes"
The appeal of the desert
Hirohiko Ikeda
Negev, meaning 'south' in Hebrew, is the name of a desert spreading over the south region of Israel. The panorama of this desert, is just dust and sand looking as if it covers the whole land and it gives the impression as if time has stopped to whoever stands there.
It was said that long before, Moses was a vagabond in this area, so you would have big expectations that you will meet someone going beyond time and space.
This is an interview of photographer Hirohiko Ikeda, who has been strongly attracted to Negev. With the introduction of friends with background from various countries, it leads to increasing the vigor for the photo expressions, each piece of image looks as if they form a continuous story, and in that sense the artwork is so unique and it is so large-scale.
The appeal of Israel
First encounter with Negev Desert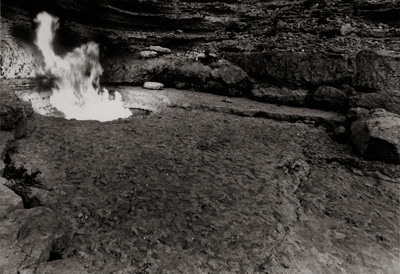 I had a little connection with Israel, so it was a place where I was thinking of going when I was a college student. After graduating, I did some part-time work, saved money to travel and visited there, stayed in one of the Kibbutz community.
First I visited the Kibbutz office, where you were asked to what kind of Kibbutz you wanted to go to. Kibbutz communities are all over Israel, and I didn't have any clear image of one. I was told there is one in the deserts, so I picked that one right away. I was watching the scenery passing by looking out of the window of the bus heading to that Kibbutz I chose. I was aware of the landscape changing rapidly in the few hours on the bus. 'This is the real desert, I am not watching TV or a photograph', I got excited, shouting 'Wow'. And finally, I found myself living there for almost a year. There are not many deserts for a lone traveler just going there in a casual manner and be able to stay there for so long, so in that sense, Negev Desert became a very special place for me. In Kibbutz, basically, I worked from early in the morning until lunchtime in a cellophane factory or a chicken farm. I met with people from many different countries and became good friends. When you are not working, you play with them in the desert and I started to take photos and these became my debut artwork, "At Negev."
Wherever I hang my hat is home
You walk around in the desert when you have nothing to do, and day by day, you are creating a rough map of your own in your head. For example, you remember by, first walk towards that rock, when you see that shrub, you change your course a little bit and so on. It was a rare experience to feel the desert in that kind of groping manner. If it's a few days of stay, your experience is like a sightseeing tour, 'wow! Awesome!,' and that's it, but if you actually live in the desert and the desert become a part of your life, even the view that comes into your eyes changes. Just like you talk to with the same person over and over, and understanding of each other gains little by little, you walk to the same rock many times or sleep in sleeping bags to take photos of stars, then you feel that the desert and yourself are gradually getting attached.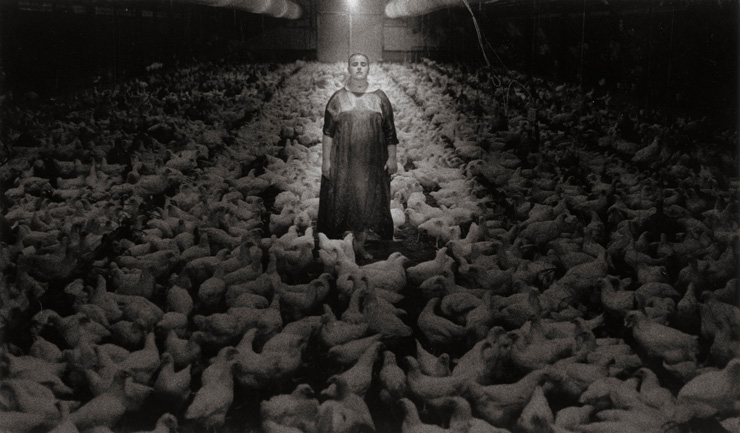 The shooting
The subject of photos in the desert
The people who appear in the photos are friends I met there. I made friends with many people coming from many different countries while I worked in Kibbutz. I told them I took photos, so we go out together into the desert, drinking alcohol and playing together. I ask my friends, 'stand here while I make fire,' or I gather dead bodies of animals and throw them off from the end of a cliff ( A ). I was doing this seriously, but many of friends were teasing me I was a crazy guy, but they were having fun with what I asked them to do.

photoA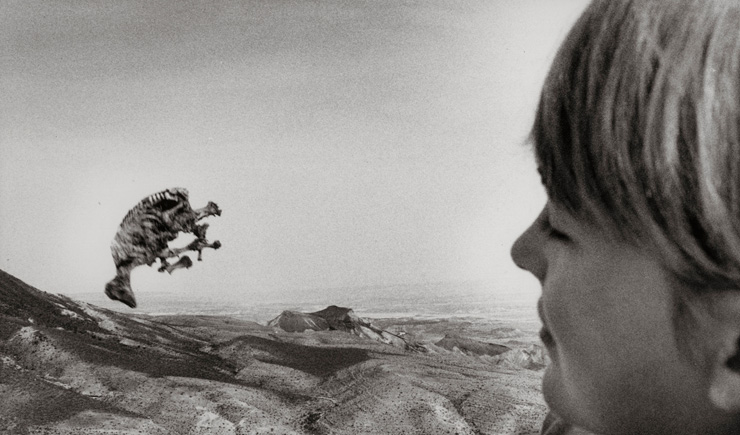 The dead bodies of animals, I encountered this place by accident when I was wondering around ( B ). What a beautiful and cool thing as an object, it would be fun to take photos of them, I thought. I was told that it was a protected area for condors, so residents gather and place dead bodies of their livestock in one place to feed them. You can't express it in the photos, but even the place is dry, it was quite an odor. The bodies were bones stuck with skin.
photo B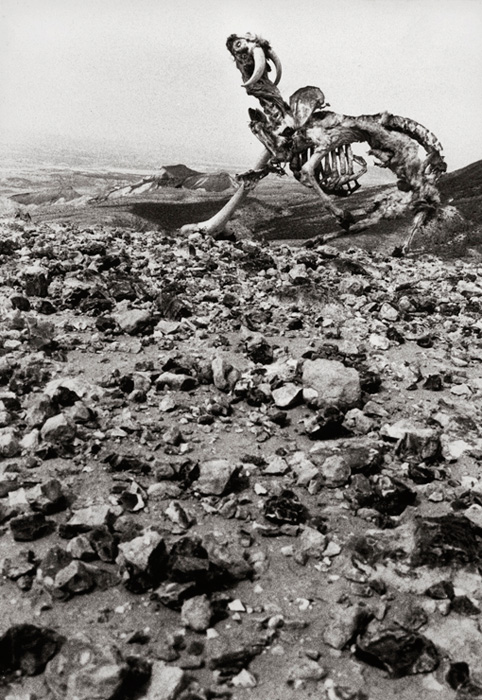 About the photo of a mirror, I had a blur image of it in my mind, I took it of the wall of the room I was staying in, carried it outside and took the picture ( C ). The photo of a pond, is actually a huge puddle made by a storm of rain, which happens only once a year in the rocky area ( D ). The timing and opportunity that I had encountered these things. It was really nice to take pictures using these pure chances. What was important was that fate to find such things in the real place. These decided what kind of photo I took and it happened many times.
photo C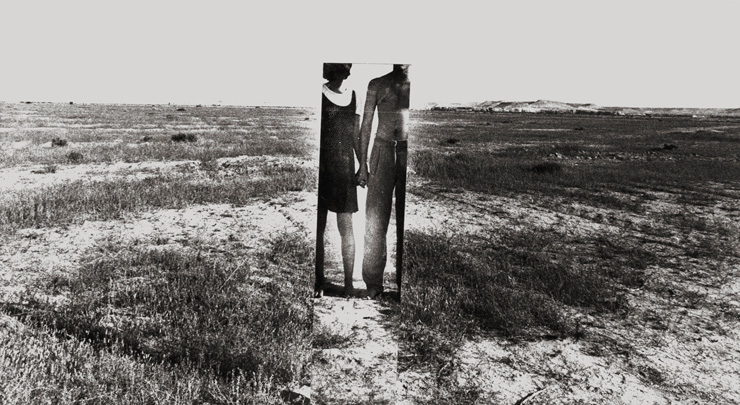 photo D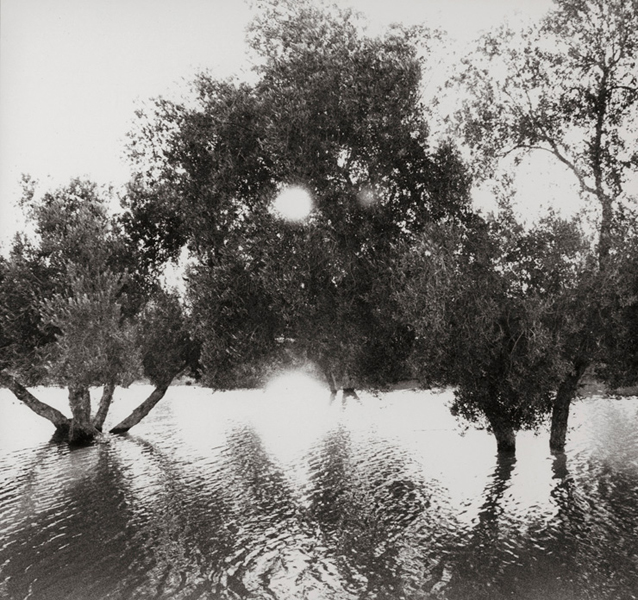 The framework
Basically, I focused on the frame structure, something like it would be fun to see such view in such place. For example, it would be fun to shoot, taking this friend of mine to that scenery and making him or she do such thing. I went to the deserts with almost no knowledge of it, but this gave me good results, which were the encountering wonders of not knowing and surprises happened giving me a knock in the head. For a Japanese fully raised in Japan, everything was so unique and appealing, so I thought it was so wasteful if you did nothing with them. For the local people who are so used to seeing these, it was just usual stuff, nobody had the idea of using them to do something.
The appeal of monochrome
I only had one camera with me at that time, and films was also valuable, so for example, I took 12 shots by ISO 400, next when I wanted to use ISO 3200, I took out the film which a rewound manually and marked 12 on the side of the film, then when I next wanted to used it, the 13th frame may overlap with 12, so I used it from frame 14. I didn't want to waist a single frame of the film. The appeal of monochrome is that it cannot take the full information of liveliness, the reality, just a little bit of it, kind of withdraws one step behind, which I like it to be that way. It is also good that you can develop and print the film by yourself. I also do colors now, but at that time, I could only do monochrome.
Israel as a place to take photographs
The desert is good because of its carefree life, compared to the daily too busy and too much situation when you are living in Japan. If you are to shoot a session, you need to adjust the schedule of those who are involved and even if you get the schedule fixed, when the weather is bad, you would have to say, 'I am so sorry for your efforts to make time for this.' If you are in Kibbutz, there are many people who have finished working by lunchtime, so early in the afternoon, you can fetch some of your time-free friends and just go and shoot. You can go to the ideal location, when you just felt like going, the shooting could be finished in an instant, so it was a paradise for me.
About safety
It was 1997 when I was shooting these photos, and at that time it wasn't that bad, but at the second time I visited there, suicide-bombing was happening all over the place. I felt quite sure that the people involved in these suicide-bombings were personally good people. I hope we can all live together simply and friendly, but in reality, the feelings of the people who had their families killed unreasonably, cannot be easily cured. It is very hard to express with words about this matter.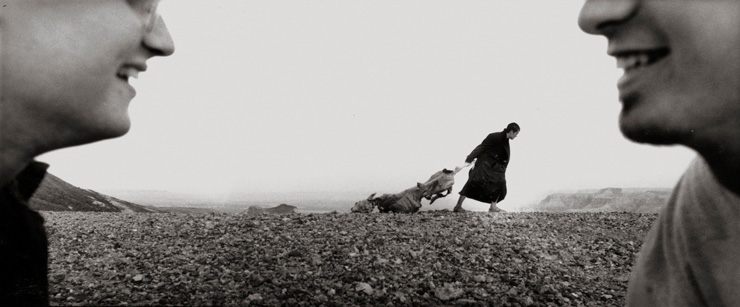 The charm of photographic expression
Realism of reality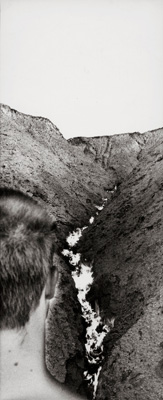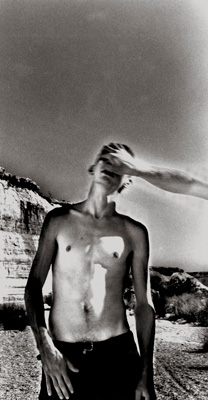 You would not be able to take photographs if the object doesn't exist. It needs to be there. That is the most appealing thing about photographs. If it's drawings, you can make images in your head without any models or landscape, and draw it into figures, but you need a real thing to make photographic expressions. If you want to take bones in the desert, you would have to actually go there. If you desire for a person to stand there, you have to take somebody with you there or you will not be able to take a photo. That is so enjoying. What you imagine in your mind is useless, it needs to exist and I am sure that real thing is never the equal of what you imagine in your mind, and you feel it is pretty boring if things actually happens the way you had planned or thought. Moreover, the idea of 'you can't shoot it if it doesn't exist there,' is so ordinary, but I feel strongly, that is the starting point of taking photographs.
It is OK to think about logics, but rather being too hasty about it, I would like to take things that are purely beautiful or unique-looking. I want to believe in my impressions and images.
By actually using your hands and minds when you take photos, helps you to understand the object with your own method. For example, when you want to express one tree in a photo, if you move closer and closer to it to focus in a very little area of its surface, you may find eggs of insects or purple ants and white moths or may be an area covered with moss or a tiny hole that it is sure to have some kind of living creature hiding inside it and only with these, you can have a one whole world. On the other hand, if you see the same tree from high above, it is just a thin needle in a large tapestry of land, or you can look for its roots a part of the tree usually hiding under the soil. But, I don't feel that you can succeed to get close enough to that tree by lining up these photos in a sequence. I ask myself, 'to what extent, are you able to express a tree by photographs?' I only have a vague image of the answer right now, but this is the kind of challenging issue, which I always want to tackle with.

The joy of making a piece of work
The joy in my own sense, is the process of making an artwork. Of course, you feel happy when you exhibit the finished work and having people evaluating them, but the specialty lies in the process when you feel something you have never seen before is given birth through your own hands (though sometimes, it's just a wrong feeling.) It is like the feeling that thoughts coming to your mind or actions you take, you sense afterwards that they were decided to be from the beginning, or things get placed in the exact position just in the right time, even you go through all kinds of trials and errors.
With the opportunity of doing this exhibition at Tokyo Metropolitan Museum of Photography, I decided to make my shooting plans which are written down in my notebook into actions. These actions I will take may lead to new and different ideas and it is also one of the joys of making artwork.
This interview was held by Formare la luce in August, 2010.

In December 2010, the compilation work of Negev Desert will be exhibited in "The New Snapshot. Contemporary Japanese Photography, vol.9: Radiant Moments" at Tokyo Metropolitan Museum of Photography.
Profile: Hirohiko Ikeda
1995 graduated Meiji Gakuin University
1996-1997 traveled the middle-east, produced "At Negev"
1998 received Excellence Award, Canon New Cosmos of Photography
2001-2002 traveled the middle-east, produced "At Negev 2002"
private exhibition
2006: "At Negev 2002" at Israel Embassy
2007: "At Negev 2002" Ginza Nikon Salon
group exhibition
1997: 7th Canon New Cosmos of Photography
1999: Canon New Cosmos of Photography in Kyoto
2000: "Young Portfolio" Kiyosato Museum of Photographic Arts
2002: "Futuring Power" Canon New Cosmos of Photography 10th Anniversary Exhibition
2003: "At Negev 2002" Gallery Speak For PARCO Gallery Nagoya
2006: "At Negev 2002" UNICE
Contact : Formare la Luce info@formarelaluce.jp